Holy cow. It's done and we did it. I was so inspired by this project and I'm still in awe, looking back over the transformation. I love DIY projects because you're never quite sure what you're getting yourself into. Although that might strike anxiety and panic in some people, I figured, "what's the worst that could happen?" To be totally honest, I had not even seen a photo of the trailer before we ventured to Colorado, where this little guy was, and currently is, with Katy. This is a project I've been wanting to do for a long time and I'm so glad to share the process.
Day One: Demo Day. Also known as, the most fun day. Seriously, when they show demo day on HGTV, it's nothing compared to how fun it actually is in real life.
Sealing holes, fixing water damage, pulling  pipes and electric out…
… And after we painted, it was so glaringly obvious how hideous the floor was. Someone remind me of how awful I thought it was if this gold-flected wonder ever comes back into style.
We made a built-in bed but left the top right and left squares open for storage.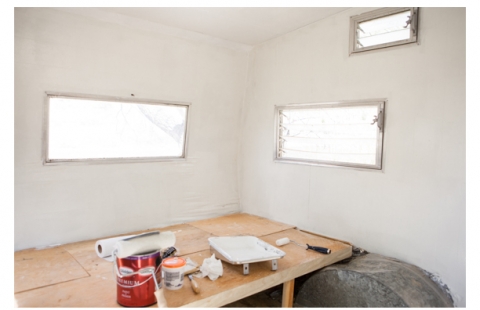 We also reused most all of the wood that was originally in the trailer. The custom cabinets were once a combination of the bed and the old closet. The shelving, and most of the bench and side table were a couple pieces from the Restore, and the counter top was from an old table that Katy and I bought when we were in Vermont for $4 that we originally used as our desk.
Matthew, I love the cabinets.
And the flooring… I love it so much. Thanks so much to Dalton Carpet One for the beautiful flooring and the subway tile.
Matthew also made the sink out of a galvanized bucket. Isn't it cute?
Thank you guys for everything you do and did for this project.